Trust Visions and Values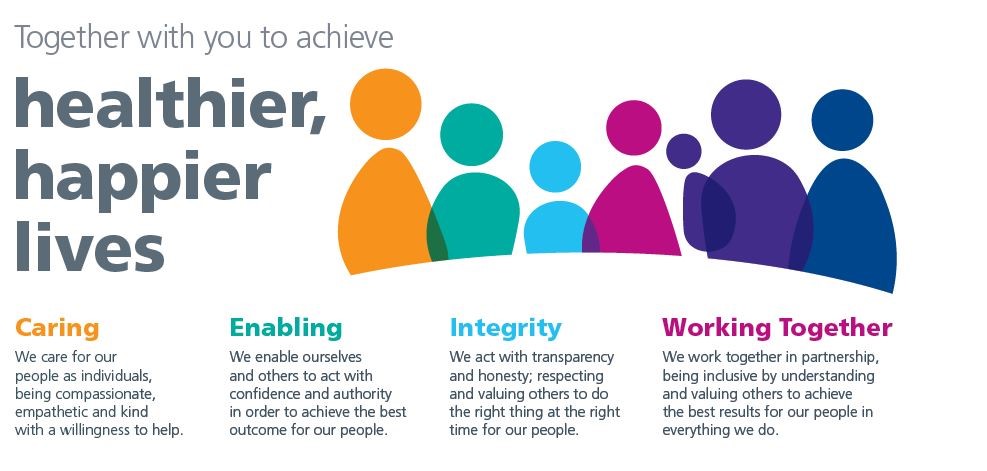 The Trust vision of 'Together with you to achieve healthier, happier lives' is embodied within the philosophy of R&I and the goal of Black Country Healthcare becoming one of the leading mental health trusts nationally, where quality and research are at the heart of our services, in order for our service users to access new and innovative treatments, at the forefront of healthcare provision.
R&I aligns with all of the Trust core values, but one of the key values of the department is enabling. R&I enables patients, carers and staff to access research and innovation, to help improve not only the quality of the services that we provide, but also the experience of those that work for and access our Trust. Whilst also maintaining the integrity of our Trust to ensure that, through working together high quality, ethically approved and monitored research and innovation projects are supported by R&I that will build the reputation and culture of Black Country Healthcare as a caring, transparent and honest organisation.
Purpose
To give the opportunity and choice for patients, carers and staff to access research, as part of the standard care, thus allowing services to move forward and ensure that the needs of people within the region are met.
Vision
To embed R&I within the Trusts, making research everyone's business, by increasing the visibility and awareness of R&I across the Trusts. Allowing every patient, carer and member of staff, to be made aware of R&I opportunities as part of the Trusts quality improvement journey.
To ensure the safe delivery and practice of R&I across.
To increase the visibility of R&I across the new organisation and within the wider region
To enable the Trusts to offer a broad range of high quality, innovative, research projects, increasing access for patients, carers, staff and the public.
For R&I to offer training opportunities to Trust staff and wider West Midlands, to increase R&I awareness and offer opportunities for research skills to be developed.
For R&I to generate income for the Trust through engaging in innovation and commercial research opportunities.
To develop participant involvement roles within R&I, to ensure engagement across the region.
R&I to develop the scope for home-grown research and support the dissemination of research findings across the Trusts.